Offset Printing
Offset printing is a commonly used printing technique in which the inked image is transferred (or "offset") from a plate to a rubber blanket, then to the printing surface.
Offset lithography is one of the most common ways of creating printed matter.
A few of its common applications include: newspapers, magazines, brochures, stationery, and books.
Compared to other printing methods, offset printing is best suited for economically producing large volumes
of high quality prints in a manner that requires little maintenance.[7]
Many modern offset presses use a computer to plate systems as opposed to the older computer to film work flows, which further increases their quality.
Advantages of offset printing compared to other printing methods include:
Consistent high image quality.
Offset printing produces sharp and clean images and type more easily than, for example, letterpress printing; this is because the rubber blanket conforms to the texture of the printing surface.
Quick and easy production of printing plates.
Letterpress Printing
Letterpress printing is a technique of relief printing using a printing press. A worker composes and locks movable type into the bed of a press, inks it, and presses paper against it to transfer the ink from the type. Letterpress printing was the normal form of printing text from its invention by Johannes Gutenberg in the mid-15th century until the 19th century and remained in wide use for books and other uses until the second half of the 20th century. Letterpress printing remained the primary way to print and distribute information until the twentieth century, when offset printing was developed, which largely supplanted its role in printing books and newspapers. More recently, letterpress printing has seen a revival in an artisan form.
Digital Printing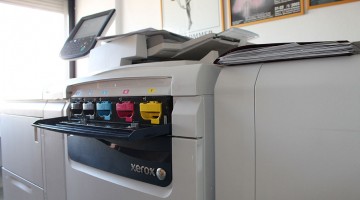 Modern printing methods such as laser and ink-jet printing are known as digital printing. In digital printing, an image is sent directly to the printer using digital files such as PDFs and those from graphics software such as Illustrator and InDesign. This eliminates the need for a printing plate, which is used in offset printing, which can save money and time.
Without the need to create a plate, digital printing has brought about fast turnaround times and printing on demand. Instead of having to print large, pre-determined runs, requests can be made for as little as one print. While offset printing still often results in slightly better quality prints, digital methods are being worked on at a fast rate to improve quality and lower costs.
UNIQUE – EXTRAORDINARY PRINTING METHODS
Thermographic Printing
The Thermography process from start to finish
A high profile way to deliver your message. Thermographic printing is a practical alternative to engraving .
While engraving raises the paper surface, thermographic printing raises the image or type.
This is achieved by sprinkling powdered resin onto wet ink, then heat-fusing it onto the sheet.
The result is a deliciously textured, high gloss finish.
Though a similar look is achieved to die-stamping or engraving, thermographic print will not show the fine details of typography or logotypes.
Embossing and debossing are the processes of creating either raised or recessed relief images and designs in paper and other materials. An embossed pattern is raised against the background, while a debossed pattern is sunken into the surface of the material.
Foil stamping, is the application of pigment or metallic foil, often gold or silver , but can also be various patterns to paper where a heated die is stamped onto the foil, making it adhere to the surface leaving the design of the die on the paper. Foil stamping can be combined with embossing to create a more striking 3D image.
Die cutting is a process used in many different industries to cut a thin flat material (in our case, paper) into a specific shape using a steel cutting die.  It can be used to punch out a decorative shape or pattern to incorporate within a larger piece, or it can be used to create the main shape of an object by cutting the entire sheet of paper in an distinct/designed way.  More simply put: for us it's way of making a hole in paper in a desired shape using the same presses that we use for letterpress printing.
Lamination is the technique of manufacturing a material in multiple layers, so that the composite material achieves improved strength, stability, sound insulation, appearance or other properties from the use of differing materials. A laminate is usually permanently assembled by heat, pressure, welding, or adhesives.
Ultra-violet coating of paper
Ultra-violet cured coatings can be applied over ink printed on paper and dried by exposure to UV radiation. UV coatings can be applied on spot locations of the paper or by flooding the page. This coating application can deepen the color of the printed area.
A printed page with UV coating applied can be very shiny or flattened to a matte finish.